Forward fold camper trailers offer a number of benefits and can be a great choice of off road camper if you decide not to opt for a traditional caravan or pop top caravan for your travels. Many people like the idea of travelling around the country and camping out in the many beautiful spots on offer, but they aren't too keen on packing and unpacking a tent at every stop or spending a huge amount of money on a campervan. Forward fold camper trailers offer a great middle ground between campervans and tents, making them an ideal choice for those wishing to explore the great outdoors. This article explores some of the great benefits offered by forward fold camping trailers.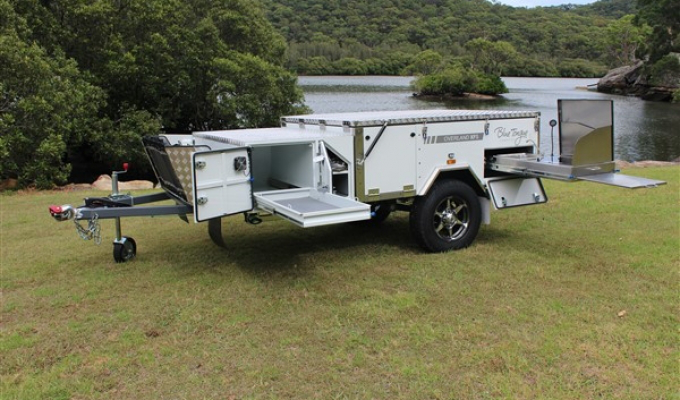 They're Easy to Set up
When it comes to weekends and holidays, most people don't want to waste a second and want to spend as much of their time doing the things they love. If you have limited time and are planning on going camping, you're likely not going to want to spend lots of time setting up and packing down a tent. Forward fold camper trailers allow you to simply pull up to a camping site and fold out and assemble your camper trailer. This is a great benefit for those whose spare time is at a premium, as well as for those who simply don't enjoy the process of setting up a tent.
They're Economical
In addition to saving time, those who opt to buy forward fold camper trailers can also save money. When compared to a campervan or mobile home, camper trailers represent excellent value for money – and it's not just the upfront costs you save on. Forward fold camper trailers are light in weight and have a low profile, which means two things. Firstly, being light in weight means they don't require as much horse power to tow, and secondly, their low profile results in less wind resistance. The upshot of this is that the vehicle towing the camper trailer won't use as much petrol, which is another welcome saving. In addition, the cost of parking a camper trailer at a campsite for a night is significantly less than spending money on a motel or a bed and breakfast.
They're Compact in Size
Forward fold camper trailers are nice and compact which can be of great benefit for those who want to park their camper trailers in their own garage, visit drive-through restaurants or park in underground car parks. But the space saving doesn't stop there – when you tow a camper trailer, you don't have to worry about finding room in the car to put the tent, and many models come with storage room to safely secure other items you wish to take with you on your trip.
In Summary
Forward fold camper trailers offer those who wish to explore the outdoors a cost-effective alternative to campervans. In addition to this, they're quick and easy to set up and are compact in size, making them perfect for those who own small vehicles.