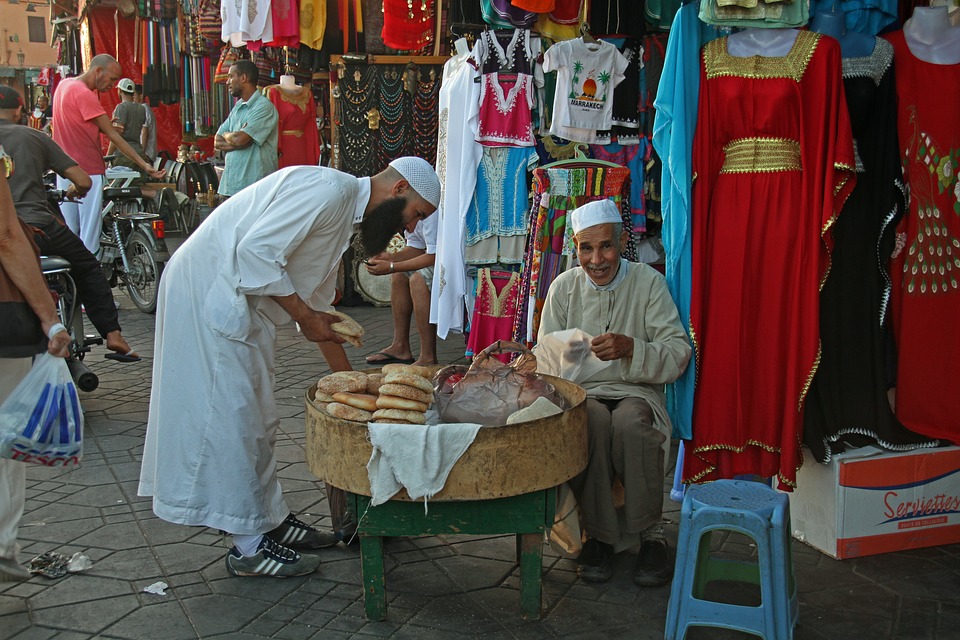 Everyone loves to go on trips and Morocco is the best destination for this purpose, especially for Muslims. The beauty of this place is unparallel. It is actually a Northern African Country with borders along the Mediterranean Sea and the Northern Atlantic Ocean. In fact, Morocco is one amongst the three nations who coastlines of both Mediterranean and Atlantic oceans.
For every tourist, Morocco is considered to be a beautiful country. Especially the cities, Marrakech, Tangiers, Fez, etc. are considered to be mesmerizing in their aesthetic senses. Other beautiful places in this country are, Asilah, Chefchaouen, Atlas Mountains, Koutoubia Mosque at Marrakech, Meknes, sand dunes near to Merzouga. In fact, if a tourist visits Morocco, he may want to stay back in this country as well. However, this is predominantly a Muslim country. Hence drinking publicly is prohibited here. Even driving after drinking alcohol is not allowed. Thus this place is safe for the tourists. Chefchaouen is a city in the northwest corner of Morocco whose streets are painted with blue paints and hence is also known as the blue city.
The best time to visit Morocco is during spring (middle of March to middle of May) as during this time the green landscapes appear more beautiful and make it easy for tourists to mountain hike.
However, the mosques in this country excel in beauty as well. Being an Islamic nation, Morocco no wonder has a large number of mosques. These are not only attractive but add to the beauty of the place as well. People come to these for prayer, spiritual learning etc.
Some of these mosques are mentioned below.
Hassan II –This mosque is located at Casablanca and with its magnificence, it is the city's one of the most important sites for visitors. In fact, amongst many religious edifices, it is one which is open to the public and is also one of the largest and tallest ones. The architecture of this mosque is unique.
Koutoubia –It is located at Marrakech and was once bordered by booksellers and hence its name also means 'the bookseller's mosque.' Since it was built during the Almohad period (between 12th and 13th centuries), the designs of this mosque resemble that era.
Tin Mal –This mosque is located at a small village in the mountainside named Tin Mal. It was founded in the 1100s and located at a high area of Atlas Mountains dramatically. However, even non-Muslim visitors are allowed to visit this mosque.
Great Mosque located at Taza –Like Koutoubia, this mosque was also built during the Almohad period (the 1100s) and is one of the oldest amongst those built during this era. The Taza city is located at the northern part of Morocco and this mosque is named after this city. There are fountains available in this mosque which adds to its beauty.
Syrian Mosque –The Syrian Mosque located in the city of Tangier (northern Morocco) is largely different from the other mosques located in Morocco. The mosques of Morocco have typical angular minarets and measure uniform in width all along their lengths. However, the Syrian mosque has a minaret which tapers towards the top. However, this mosque excels in aesthetic beauty as well.
Since Morocco is an Islamic nation, while visiting these mosques, the Muslim women may need a hijab, which is a kind of veil worn by these women to cover their head and chest. Wearing this veil brings respect to the women of this religion. According to the Islamic women who opt to wear the Hijab believe that it retains their moral, modesty and freedom to choose. They select to cover themselves because in this way they can avoid harassments. The most popular amongst these are the ones which cover the head of the women folk (Muslim). The website which provides these at a reasonable price is https://www.hidden-pearls.co.uk/product-category/hijabs/. Here Hijabs of a different style, fabric and colour are available. These veils are also available for different purpose like Eid hijabs, wedding, and party hijabs, winter hijabs, crimp hijabs, embroidered ones, lace hijabs, pearl hijabs, tassel hijabs, etc.
The hijabs made of chiffon can be found on the website https://www.hidden-pearls.co.uk/product-category/hijabs/chiffon-hijabs/ for online buying purpose. These hijabs are lightweight and are very useful during the summer season. These hijabs are found in different categories like chiffon black lace hijab, chiffon lace hijab, crinkle chiffon hijab, deluxe chiffon hijab, Dubai Shayla Black hijab, everyday chiffon hijab, etc.
Another lightweight product is Jersey Hijab that can be found on the website, https://www.hidden-pearls.co.uk/product-category/hijabs/jersey-hijabs-hijabs/. Types of this hijab are Deluxe Jersey Hijab, Chocolate Deluxe Jersey Hijab, Deep Blue Deluxe Jersey HIjab, etc.  These hijabs are not needed to be pinned and hence are easy to carry. Sometimes a girl's shirt, being too low in front or back, may be revealing. These hijabs help in covering these thus maintaining the style.