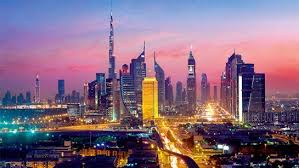 With the holiday season fast approaching, perhaps Dubai would be the perfect place to combine Christmas shopping while getting some much needed winter-sun. Indeed, Dubai has evolved in recent years to become much more than just a 'Shopping-Mecca' – although it is still one of the best places to splash your cash – with so much more to see and do. Here is a pick of some of the best activities found outside the glitzy and glamorous shopping malls.
Dhow Cruises

After a long day at the shopping malls, you can unwind and enjoy a night cruise in the cool desert air along Dubai's rapidly expanding canal system. Most evening and night options are for dhow cruise dinner with a wine tasting extravaganza as you enjoy the slow sailing around Dubai's spectacular city centre, unwinding from a long day of shopping or perhaps a desert safari. Of course, perhaps these luxurious night cruises on large and glitzy modern-dhows is not to everyone's liking. Those seeking more of an adventure might be enticed with spending the day on a traditional dhow sailing boat outside of Dubai's main harbour and seafront, enjoying the views of the spectacular cityscape and the vast sweeping deserts beyond.
Fishing Trips

This probably doesn't spring to mind when people hear about Dubai and what there is to do there, but fishing is now a well established activity, with numerous packages to suit all types of fishermen, from a complete novice to a hardened veteran. Fishing trips in the UAE are fast becoming a sought after option to wind down and get out on the water after long days in the desert, and for good reason. Groups and solo fishermen are both catered for, and the types of fishing, such as deep sea fishing, are varied and can be customised to your specific tastes. This includes add-on extras such a BBQ, to cook your own catch of the day after a long day trolling the ocean.

Luxury Tours

How about swapping the towering buildings and shopping malls in Dubai for the towering desert dunes that surround Dubai? Generally speaking, safaris just outside Dubai fall into two categories, or often both: Dune bashing, or a more traditional camel riding affair. Not only this, but there is a whole host of various luxury tours in Dubai to choose from, meaning you can find the perfect tour for you. Dune bashing is essentially a high speed dash into the desert dunes in modern 4×4 land cruisers which is guaranteed to get the adrenaline pumping, while camel-riding will be lead by local Bedouin tribes people and will give more an authentic feel of how desert life was until not so long ago.

Either way, the trip into the desert will finish in the same place: a Bedouin camp. But not before half an hour is taken near the sunset for some amazing views and photo opportunities of the sun setting behind the dunes. On arrival at the camp, a delightful BBQ meal will be served up, and afterwards you can enjoy entertainment such as belly dancing, or perhaps more suited to females is the chance to get a traditional henna tattoo. You will then be given a lift back to your hotel where you can enjoy a good night's rest!

These 3 activities are perfect for those who are feeling a little weary from all the holiday shopping  and want to unwind outside the glitzy shopping malls that Dubai has to offer.