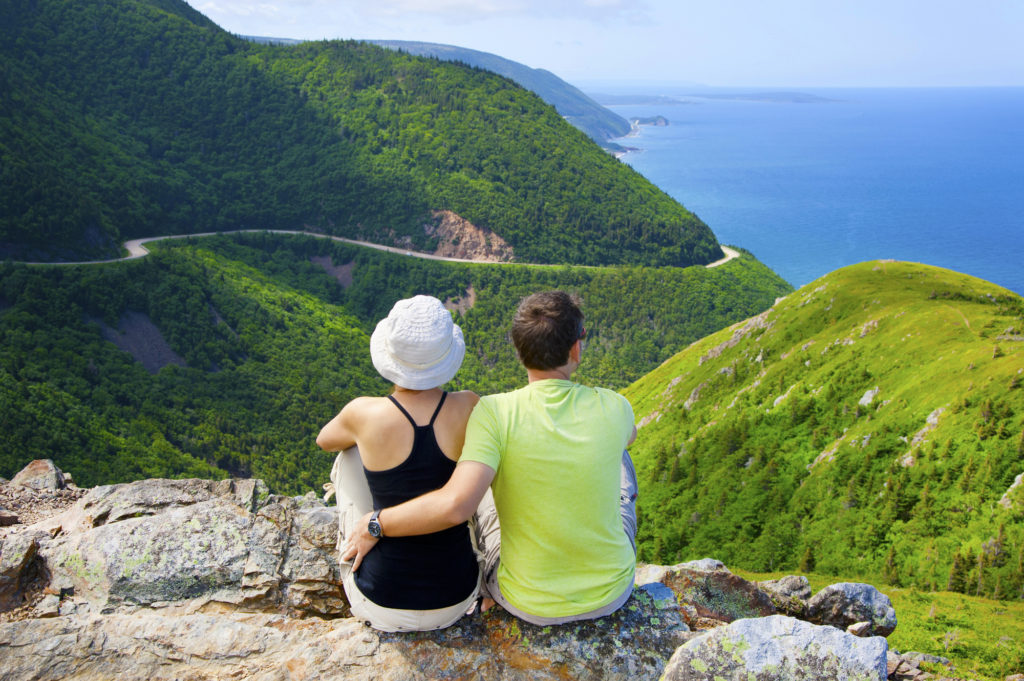 Planning a trip to Nova Scotia, Canada this summer? From the beautiful rolling hills to the quaint seaside towns, there's so much to see and experience. Check out these 10 things to do in Nova Scotia
Planning out your summer vacation and looking for things to do in Nova Scotia, Canada?
From museums and historic sites to art galleries, nature tours, and white-knuckle adventure, Nova Scotia has something for all visitors, of all ages and inclinations.
That's without talking about the thousands of miles of beautiful coastline. You're never further than 80 miles from the sea when you're in Nova Scotia.
Get ready to explore the best of this maritime Canadian province.
1. Puffin Tours
Puffins are some of the cutest birds on the planet, and they love to make their homes among the rocky islands surrounding Nova Scotia.
There are many companies operating boat tours around the islands, where you may also spot seals, other seabirds and – if you're lucky – a bald eagle or two.
Book your spots in advance, as these tours are very popular among keen travelers during the summer.
2. Golf Clubs Galore
For those who like a relaxed day on the course, you'll be pleased to hear that Nova Scotia has plenty of golf courses to enjoy. A number of 'play and stay' deals make your accommodation needs easy.
It's definitely one of the most beautiful places on Earth to enjoy this sport. Rather like the country of Scotland where it takes the Latin name 'Nova Scotia' from – meaning 'New Scotland'.
3. Ziplines
Ziplines have become a hot attraction in many places around the world, thanks to the unique perspective on the landscape they give riders.
Check out the Anchors Above Zipline near French River. It's Nova Scotia's biggest line. Zip through the trees on the hills just south of the Trans Canada Highway. You'll enjoy spectacular views through the forest during your thrilling descent.
4. Visit Halifax
For an urban retreat, head to the province capital: Halifax. But don't expect a New York-style atmosphere! Halifax might be a city, but it has a population of just over 400,000, meaning it is far more relaxed than many others.
Take a quiet walk down the waterfront, and spend a day at the Maritime Museum of the Atlantic,
If you're in Halifax during the end of June to the beginning of July, don't miss the annual Tattoo. Expect military marches, dancing, bagpipes, and acrobatics, held in a very family-friendly atmosphere.
5. Old Town Lunenburg
Old Town Lunenburg is a jaw-dropping UNESCO World Heritage Site – UNESCO calls it the best surviving example of British colonial settlement in the Americas.
The wooden structures built in the 1800s have been carefully preserved for more than two centuries, and the town retains its superb original appearance because of these safeguarding efforts.
As you walk around its narrow streets, you'll get a rare sense of what life might have been like for the maritime inhabitants building a brand new life for themselves in Canada.
Aside from the historic district of Old Quebec, this is the only urban UNESCO Heritage site in Canada.
6. Boating Tours
Take advantage of Nova Scotia's strong maritime history with a sailing tour around its rugged coastlines. Knowledgeable and friendly guides will teach you about the history and wildlife around the area.
There are some unique experiences to enjoy besides the friendly local boat operators. Try a ride in the 48-foot 'ketch' vessel which tours Old Town Lunenburg – it departs for sailing tours on a daily basis.
7. Joggins Fossil Cliffs
Another UNESCO heritage site, the Joggins Fossil Cliffs are, as the name suggests, full of fossils.
A huge number of trees and animals are fossilized in the cliffs, including extinct species found nowhere else on earth.
These cliffs are a fascinating day out with the kids, or just for the curious!
8. Drive the Cabot Trail
The Cabot Trail winds its way around Cape Breton Island, the eastern tip of Nova Scotia.
Spend an afternoon driving the trail, stopping off for photographs and snacks as necessary. Or for the more adventurous, try out kayaking, whale watching, or cycle your way around the trail.
Then for a dinner treat, enjoy traditionally-prepared lobster, clams, scallops, or crab, at one of the many seafood restaurants dotted around the trail.
9. White Water Rafting
You can go white water rafting on a tidal bore – a type of wave – in Nova Scotia. The Bay of Fundy is famous for its reliable bore, which changes the course of the river, pushing water back inland as the tide surges inwards at speed.
Check with the rafting operator to choose a visit that suits your abilities – depending on tidal patterns, the bore will be stronger at some times than others.
10. Grand-Pre National Historic Site
Explore the history of the Acadian people, French colonial descendants who were subject to deportation during Le Grand Derangement in the mid-1700s.
This is the 3rd UNESCO site on our list, but it was only placed on the official UNESCO list in 2012.
While you're out here, you can explore the beautiful countryside and rural communities in the surrounding area.
Places to Stay
Nova Scotia is a hospitable and friendly province – you can expect the warmest of welcomes here.
Check out TripAdvisor Nova Scotia recommendations for places to stay, or ask the locals once you're there. They're an approachable bunch, who'll be very pleased to help out a tourist in need of a recommendation or two.
Things to Do In Nova Scotia
We've tried to include as much as we can in this list, but the truth is there's only so much we can write before you'll be itching to be off! You'll find far more things to do in Nova Scotia once you're there.
We hope you have a fantastic vacation, and perhaps you'll even decide to go back to Nova Scotia the following year!
Or if you're looking at a trip to other parts of Canada, here's how to plan your dream trip.