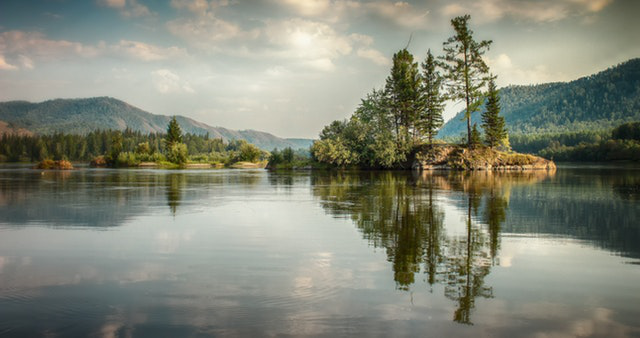 It's easy to let things get out of date up at the cottage. It's already furnished with the things you'd replaced in your home. You're only up there on the weekends or (if you're lucky) for a few weeks in the summer, and you have to make room in the car to bring up new furniture.
But the cottage should also be a place where you can relax and enjoy yourself. Human bodies are sensitive to their environments, and there's no place that affects us more than where we sleep. Updating your bedroom in cottage country can help you relax and unwind on your getaways from the city.
First of all, let's talk about light. Your bedroom at the cottage wants morning light. That means light curtains that you can draw at night that will still let the sun shine through in the morning. Thin white curtains should do the trick, while a lighter paint on the walls and in the fabrics are better at reflecting light. Use mirrors and lighter tones if you don't have east-face windows and want to make the most of diffuse morning light. One of the best parts of cottage living is waking up naturally with the sun instead of an alarm clock. When the sun shines in on you in the morning, your body stops releasing melatonin (the sleep hormone). It's the secret to waking up naturally and happily.
Second, it's time to get rid of that squeaky old bed frame. You're not getting a good night's sleep when you hear creaking and metal groaning every time you or your partner shifts onto their side. An old bed frame can keep you up at night. You can find a huge selection of bed frames online for a reasonable price and even have it delivered, saving you room on your Friday night fight with traffic.
When it comes to bedroom furniture, wood will feel warm and appropriate for cottage living. Your headboard and any kind of night table or side table should be a real, natural-feeling wood. When you're surrounded by the water and the woods, your home should feel earthy and rustic.
These are the kinds of things that will help you settle in after a long drive. If you're not comfortable at the cottage, you'll wind up struggling with the first night effect, where you struggle to sleep because you don't feel comfortable in your surroundings. Pay attention to the details and make yourself feel at home.
Last but not least, don't forget about the kids' bedrooms. They should be easier-going than your own, but you can have a lot of fun with themes. For the cottage, keep things simple – you don't want to have to redo everything when they get older. Stick to classics like nautical themes or cabin-in-the-woods, something they won't be eager to see changed when they get older.
Updating the bedrooms at the cottage will make you feel more at home and relaxed. It's your weekend getaway, your home by the lake. Make it feel like home.