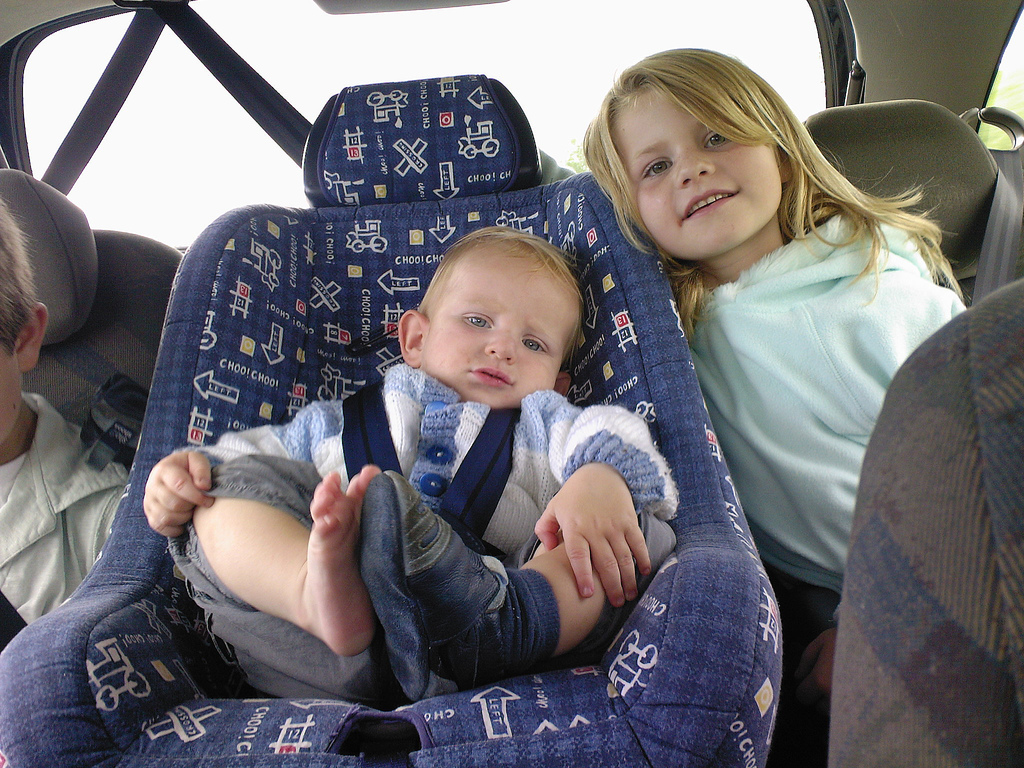 Whether you're trekking all the way to Disney World or are simply traveling across your home-state, family road-trips can be equal parts exciting and exhausting.
If you've never gone on a long-term trip with a baby on board, there's plenty to consider before stepping foot in to the car: this is especially true when dealing with siblings, too.
Thankfully, we've outlined the essential tips and things to know prior to embarking on your big journey. By keeping these tips in the back of your mind, you can worry less about what happens on the road and focus on the fun of your destination.
Bring the Right Gear
Among the most important tips for traveling with baby passengers is the need for the proper gear. While some amenities such as diapers and wipes may seem like no-brainers, afterthought items such as a carrier and travel crib are must-haves when you have a baby on board. Don't worry about packing too much: as long as you comfortably fit everyone in the car, there is no such thing as being too prepared.
Be Ready for Frequent Pit-stops
"Mom, I need to go to the bathroom!"
Be prepared to stop at just about every rest station in case of a bathroom break or diaper change. Unfortunately, such stops can put a dent in your travel time and ultimately interrupt your tiny travelers who finally fall asleep; however, these inconveniences simply come with the territory of a road trip. Bear in mind it's better to stop more frequently, though, than end up with a bathroom emergency on your hands.
Set Mini Milestones
Perhaps one of the best ways to break up the monotony of your drive for both yourself and your little ones is by setting smaller milestones on the way to your final destination. For example, make it a point to stop at a restaurant or store that you would never be able to visit locally in order to give your kids something small to look forward to.
When in Doubt, Stock Up on Food
Whether you're trying to keep your budget in check or simply avoid stops, it never hurts to have plenty of healthy snacks on deck. If you're dealing with a lot of fresh fare, try to make room for a cooler in the car: otherwise, prepackaged trail mix or Cliff bars can likely do the trick.
Keep Your Kids Busy
As soon as your kids begin to grow bored, your trip tends to go downhill very quickly.
From books and tablets to gaming consoles and beyond, strive to let your kids entertain themselves. It may also be a worthwhile investment to create a playlist with your kids' favorite tunes to engage in the occasional singalong.
Don't make the mistake of solely relying on screens and other electronic technology, though. In the case of something breaking or chargers running out, it's a good idea to at least have some traditional toys and games on hand.
Give Your Kids Time to Rest
If you are fortunate enough to encourage your kids fall asleep during the trip, it may be a good idea to simply let them rest for as long as they can versus interrupting their slumber. Simply use your best judgment: if you're traveling through a populated area with plenty of places to stop, you can worry less about halting your journey. On the flip side, if the next rest are is over 50 miles away, you might want to go ahead and pull over.
Family road-trips should emphasize fun first and foremost. With these tips in mind, you can make sure that you actually enjoy your journey versus worry about the what-if's.