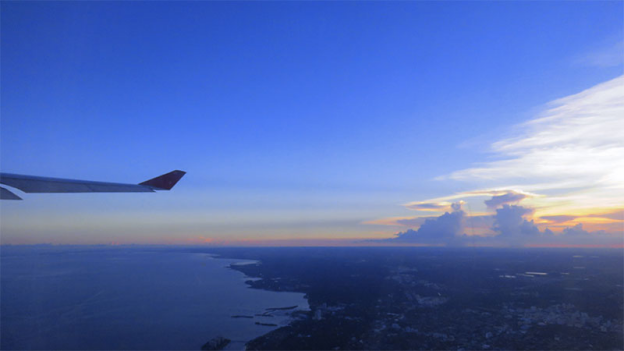 (Image Credit: Pexels / Maile Ortiz)
Flying coach might be an affordable way to travel, but it isn't always the most luxurious. If you've ever felt like you're just participating in a mass cattle call during your trip, you're not alone. What if you could start enjoying your travel experience before you reached your destination? Here are six tips to make flying coach a more comfortable and enjoyable experience, even if your airline of choice doesn't seem to care.
1. Choose Your Airline Wisely
Nothing says cattle call more than sitting halfway in your neighbor's seat or having to battle for legroom. One thing that most people don't realize is that your assigned "pitch" (airline language for legroom) various by carrier, with the standard being 31 inches.
The good news is that you can score 34 inches of pitch with JetBlue as well as a standard leather seat and seatback DirectTV. If you're flying international, you can get up to 36 inches with some of the planes in the Thai Airways fleet.
2. Pick Your Seat Quickly and Carefully
When you book a coach ticket, you should also choose your seat immediately if given the option. The best seats are taken early, so picking a seat quickly can guarantee the most comfortable journey.
If you're not sure which seats are the best, use a site like SeatGuru.com that will rank a flight's seats based on legroom as well as distance to the bathroom. Seats that you want to avoid are the ones against the bulkhead and in front of exit row because these either won't recline at all or will have limited reclining ability.
3. Stay Hydrated
Many people don't realize just how dehydrated they can become when flying. If you're planning to travel, have water with you at all times and make an effort to stay hydrated. If you want to leave the plane feeling refreshed, it also might be a good idea to pass on the alcohol.
4. Dress Appropriately
Comfortable clothing when you fly coach is a must. Avoid wearing anything that could potentially be constricting, even blue jeans. Dress in layers so that you can remain comfortable as temperatures change. For example, a nice t-shirt under a sweater or jacket is a good choice. You may also want to bring along an extra pair of socks so that you can take off your shoes during a long flight.
5. Use Intelligent Earbuds
Airports and airplanes can be nerve-wracking environments due to the noise levels and degree of overstimulation present. Smithsonian Magazine reports that the noise from an aircraft alone can reach 85 decibels. Using noise cancellation headphones or earbuds has become popular with travelers, but there is a better solution to this problem.
Intelligent earbuds like Nuheara's IQbuds™ make travel more relaxing and enjoyable. These wireless earbuds have a "plane" setting that will reduce aircraft engine noise and still allow you to balance audio between the digital and physical world according to your preferences.
6. Plan Some Diversions
Most of us have busy lives, so a forced time-out in a plane for a few hours doesn't have to be a bad thing. Take advantage of that downtime to do something that you enjoy such as reading a book or magazine, doing a crossword puzzle, or watching a movie through those IQbuds™. If you have these activities lined up, you just may look forward to your next flight in that coach seat.
If you want to travel from point A to point B, flying may be the best option. Use these tips to turn that unavoidable travel experience to something that is not only tolerable but even comfortable and enjoyable.