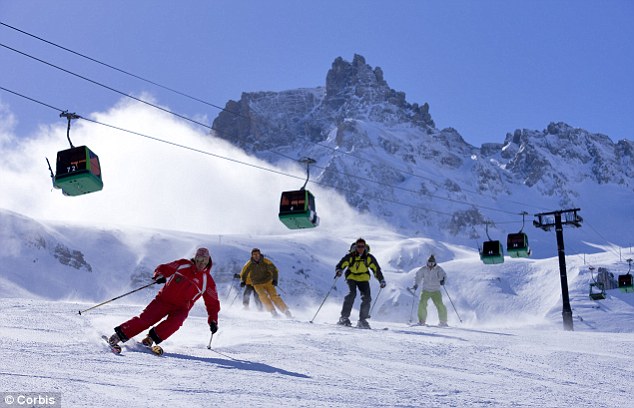 With Christmas over and winter well and truly set in throughout many parts of the world, now is the time to start looking into those winter getaways that the whole family can enjoy. But where to? Maybe you have just recently had a holiday to a warm climate and you're looking for something a bit more winter friendly to help wipe away those winter blues. If so, you've come to the right place. Winter holidays don't always have to be jetting off to sunny tropical locations with white sand beaches and instead can involve head out to your favourite snowy destinations to hit the slopes, sip hot cocoa in the cosy atmosphere of your ski chalet and enjoy drinking Gluhwein in front of toasty fires with friends. So what are some of the best ski locations for couples and families? Check out our top picks for cheap ski holidays below and get in on the deals before they're out the door for the season!
La Tania – Courchevel
This alpine resort is a haven for ski lovers who like to be challenged but also for those who like easier more leisurely skiing. A unique feature of this resort is the full pedestrianisation of the resort itself – that is to say, that the resort allows you to ski throughout the whole region – to the shops, to the bars, to the restaurants and the like. What more could you want? For a real dive into the life of skiing this is the place for you and your family and with over six hundred kilometers (yes! Six hundred!) that means you can spend your entire time skiing your little heart out at La Tania and never run over the same piece of trail twice – unless you want to. With mainly north facing slopes, the runs of La Tania will keep their snow in pristine condition until late into the season, making this a perfect resort for those late ski season holidays for both couples and families alike. So for those who want to maximise their ski season, be sure to take advantage with a holiday to La Tania.
Les Arcs
This resort is a combination of all the best bits of the sport of skiing. Ideal for beginners all the way through to experts it boasts over one hundred and thirty runs for beginners, around sixty for intermediate and around forty for advanced level skiers. With over one hundred restaurants and bars to add to the feel of this alpine beauty, Les Arcs is an old favourite amongst hobbyists as well as serious athletes with its Olympic level speed skiing course to add to the huge variety of runs already available. Les Arcs is additionally perfect for families or for those who like a bit of a lower key holiday as even though there are bars and restaurants available en masse, the late night atmosphere is nearly non-existent here. For those who like to get out by night, the neighbouring resorts often have a more hopping nightlife than Les Arcs, but don't let that put you off this unique, enjoyable and impressive resort. You won't miss the parties here with so many fantastic runs to check out and other apres ski activities.
Val D'Isere
Three hundred kilometres of piste set in an alpine haven, Val D'Isere boasts impressive advanced runs for those experienced skiers looking for a challenge. Not experienced? No problem! Val D'Isere also hosts a whole range of beginner to intermediate runs too for those who are just starting out on their ski skills. With around one hundred and fifty cafes, bars and restaurants at your disposal, it's easy to see why Val D'Isere is a favourite amongst not just the expert skiers but also with those of all levels. The activities kick off each afternoon for those to enjoy the apres ski offerings and with a hugely popular cafe culture it's easy to get stuck right in. For foodies, this is the best resort due to its location – nestled in the southeastern France's Alps and only a mere five kilometers from the Italian border means that the Italian-French fusion cuisine is rampant in the numerous restaurants at Val D'Isere. Come see for yourself.
La Plagne
The perfect place for those who love to work hard on the slopes and play hard in the village. La Plagne is comprised of several villages which enjoy pristine snow, a plethora of apres ski activities and locations to wind down as well as generally flat topography with numerous runs that range from beginner to experienced. This is a great resort for those who just like to whet their appetite with skiing but don't necessarily want to really dive in. This is probably the best resort for families or groups of friends due to the amount of activities on offer that don't necessarily involve skiing as well as the variety in terms of run ratings and other general amenities. Whether you're an avid skier or not, La Plagne is the best resort for all abilities and preferences so you won't regret your trip to this bustling and popular resort.
Overview
These are just a few of the resorts in the Alps which offer impeccable skiing and a variety in terms of amenities, activities and more. These are French Alps resorts but there are a number of other countries which feature alpine holiday packages as well. The French Alps arguably have the best in pricing and convenience with a whole host of different resorts to choose from. Many of the package holidays in the French Alps also feature nearly all inclusive (usually half board) catering, flights, hotel, lift passes and more. So if you're looking for the best in alpine skiing without having to pay the sometimes heavy prices of other skiing holidays, the French Alps are the place to be. Regardless of whether you're an early riser, a party animal, a night owl or the like, the Alps will have something for everyone – and don't forget the impeccable wine! Being on the corner of three well known wine countries, the Gluhwein you're likely to find here might just be some of the world's best.
So whether you're an avid skier, a beginner or even an accomplished athlete the Alps are one of the best places on the planet to get your ski on. With so many packages, mountain ranges, ski villages, resorts and runs to choose from you can rest assured that you will stay challenged and enjoy every minute of any ski holiday to the Alps. But don't just take our word for it – come and see for yourself. You still have a couple of good ski months left in the season, so don't delay and get your next mountain ski holiday booked now!