Africa is an absolute haven for romantic getaways; you're spoilt for choice. From luxury game lodges in South Africa to the island paradise, Quirimbas in Mozambique, romantic bliss is waiting for you.
Pondoro Game Lodge, Greater Kruger, South Africa
Pondoro Game Lodge has the distinction of 'Most Romantic Hotel' in the Africa category at the 2016 Haute Grandeur Awards in Abu Dhabi.
The lodge is situated in the Balule Nature Reserve in the Greater Kruger. The unfenced concession allows the wildlife to roam free in their natural habitat, which exudes an inherent romanticism.
Exclusivity and authenticity are the ideals that define Pondoro. There are five suites and three chalets available. Each of them is delightfully decorated – keeping with the authentic wildlife aesthetic – and equipped with a private patio, lounge area; an outdoor shower and a Jacuzzi – complete privacy is guaranteed. The lodge also boasts an overnight treehouse hide overlooking a spot-lit waterhole.
Make sure that you enjoy a luxury game drive together. The expert guide will impart their extensive wildlife knowledge while providing both of you with exclusive game viewing.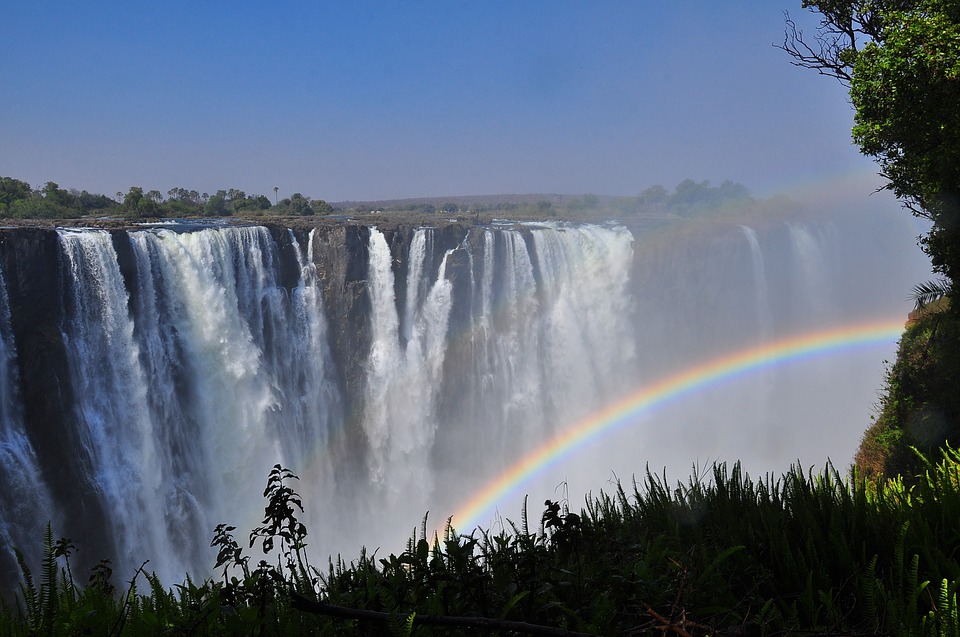 Victoria Falls, Livingstone, Zambia
The legendary Victoria Falls, also known as 'the smoke that thunders', is one of the most regal and romantic destinations on the planet. There are a plethora of luxury hotels from which to choose, but the Royal Livingstone Hotel is perfect. It's located close to the falls and offers all the exclusivities you could imagine.
The hotel is approximately 10 minutes from Victoria Falls. For a one-of-a-kind experience, take a dip in Devils Pool, a natural pool right on the edge of the falls, offering sensational views.
Pemba Island, Zanzibar
Zanzibar is located in a region of Tanzania in East Africa. Technically, it's an archipelago (a cluster of islands) in the Indian Ocean. It's made up of a plethora of small islands and two large ones named Unguja and Pemba Island.
The underwater room is precisely as it sounds: a triple-level floating utopia located 250 metres off-shore of Tanzania's Zanzibar archipelago. The bedroom is on the bottom level, which lies underwater; you're literally immersed in an underwater world and have 360-degree views of shoals of fish. During the night, the room's spotlights attract other marine life such as octopus. It's an experience that needs to be cherished.
This is the epitome of privacy – it's just you and the ocean. It's a must-have experience for those who want to leave the fast-paced world behind and live in the moment.
Kagga Kamma Nature Reserve, Cederberg, South Africa
Peace, tranquillity and spectacular scenery combined with bespoke, sensational accommodation create a romantic atmosphere that is unmatched.
Kagga Kamma Nature Reserve is located in the Cederberg, an area in the Western Cape, South Africa. It's an unscathed Karoo-like wilderness where beautiful wildflowers bloom and small animals roam.
Open air suites: Sleep under the stars, literally! The Sky and Star open-air suites are nestled in between incredible rock formations and outcrops. They are located a few kilometres away from the main lodge, so you and your partner have complete privacy to enjoy the magnificent surroundings.
Cave suites: Kagga Kamma is famous for it's unique 'Cave Suites' which have been expertly constructed to blend in with the surrounding sandstone formations; the façade is man-made while the interior wall is natural sandstone. Each suite is furnished and equipped with all amenities to ensure you're completely comfortable – and don't forget about the timeless, picturesque views.
Quirimbas Archipelago, Mozambique
The Quirimbas Archipelago consists of a string of 12 major islands and 20 smaller coralline outcrops. The remoteness, sensational sandbar beaches and crystal-clear water provide a romantic beach escape unlike any other.
The truth is that you're spoilt for choice when deciding on accommodation – every resort has its own character. However, Azura on Quilalea Private Island is world renowned for its combination of privacy and luxury. There are only nine villas on the 86-acre island, which includes four beaches. It's a real-life paradise.