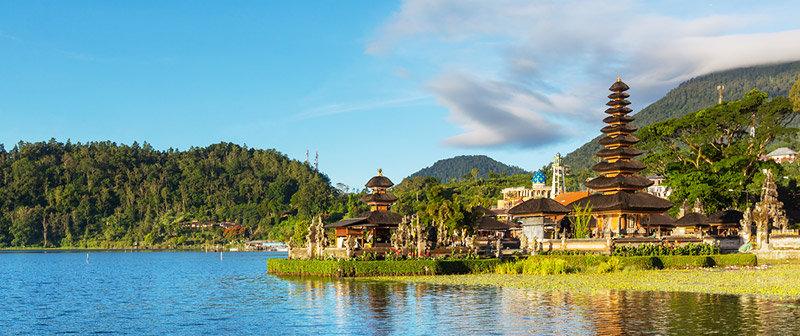 If you're looking for the next best place to jet off to on a holiday but you want something with a bit of a mix of luxury and rustic, adventure and relaxation, look no further than the Indonesian island of Bali. In truth, Bali has a bit of everything for everyone. Nestled between the islands of Java and the Gili Islands, Bali is home to a number of fantastic resorts, bars, restaurants all alongside quaint fishing villages and rustic countryside life, perfect for those who want it all.
Bali Introduction
Despite the fact that Indonesia is a majority Muslim country, Bali is mainly Hindu in culture and religion, with the Hindu spirituality being evident in every part of everyday Balinese life. It's combined itself well with the traditional animist past of the island, and the two have been seemingly inseparable since.
It's likely that you will fly into Denpasar International Airport from most countries outside of Indonesia, but Bali is accessible by other forms of transport (namely ferry) from the neighbouring regions of Java and the Gili's. Getting around the island is mostly done by bus but you can also rent a taxi or car yourself, but buses are fairly decent and are very affordable.
If you're a temple lover, Bali is the place for you. Each town, village city and the like is required to maintain a minimum of three temples, all of which are never two of the same design – quite literally thousands of unique temples are found scattered throughout the region. It's worth noting though that the people of Bali take the sacredness of their temples very seriously and you won't be admitted into them if not dressed appropriately. To avoid being turned away it's advisable to carry a scarf or shawl with you to cover up your shoulders and arms before entering.
Luxurious Relaxation
Bali is home to some of the worlds most luxurious, highly rated five star resorts which makes it ideal for those looking for the ultimate in luxury and pampering. You will find several hot springs throughout the island, as well as a whole variety of spas that offer amazing treatments with essential oil that are luscious and leave you feeling truly fabulous. One such treatment that is found throughout the island is the world famous Balinese massage. Body scrubs with exfoliants and oils are another island favourite with just one treatment experienced you will understand why so many flock to Bali for their spas and resorts.
Bali is also home to some of the best yoga and health retreats around. If this sounds like your thing, sign up for a retreat at one of these fantastic sites in either Ubud or Seminyak, where you will find retreats catering to foreigners. You might find some off the beaten trail that are quieter or lesser frequented and give you a more traditional, back to nature vibe so it's worth looking around if you're looking for something less commercial or less touristy.
Adventure Bali
Like relaxation and luxury pampering, Bali is awash with adventure options as well – from jeep safaris to diving, some of the best things to do in Bali involve either climbing some of the volcanoes or heading off into the deep blue sea on day trips to see some of the purely beautiful coral gardens teeming with sea life that Indonesia is famous for. Hiking, biking, and climbing are favourites around Bali alongside things like canyoning and water rafting (both placid and rapid). Horseback riding, paragliding, fishing and other activities are available widely, making Bali an outdoor lovers paradise with something for everyone and for all ages.
Foods and Further Afield
A quick note on the food available on Bali – of course, lots of fish, but there is also a huge emphasis on pork. Many dishes are available from other parts of Indonesia, such as the Padang, which comes from Sumatra and is a spicy coconut curry usually served with beef but other meat options are available. Most Balinese food will be cooked in local spices alongside things such as lemongrass. Curries are widely favoured but unlike Indian Hindus, most of the Hindu population on Bali eat meat, with vegetarianism and veganism not being widely catered to.
If you're looking to get out of Bali a great next stop is the Gili Islands to the east. Even lesser visited than Bali, the Gili's are known for their amazing snorkelling, including with sea turtles as well as for their laid back party atmosphere without going overboard like they do in other parts of Asia.
Overall if you're looking for an amazing place to come and chill out with the option for more, Bali is your best bet. With its perfect position in the centre of Indonesia, it's well placed for you to fly into and out of yourself or to head to other parts of the country after you're done enjoying everything on offer in Bali…. but, with everything there, that might not be for awhile!