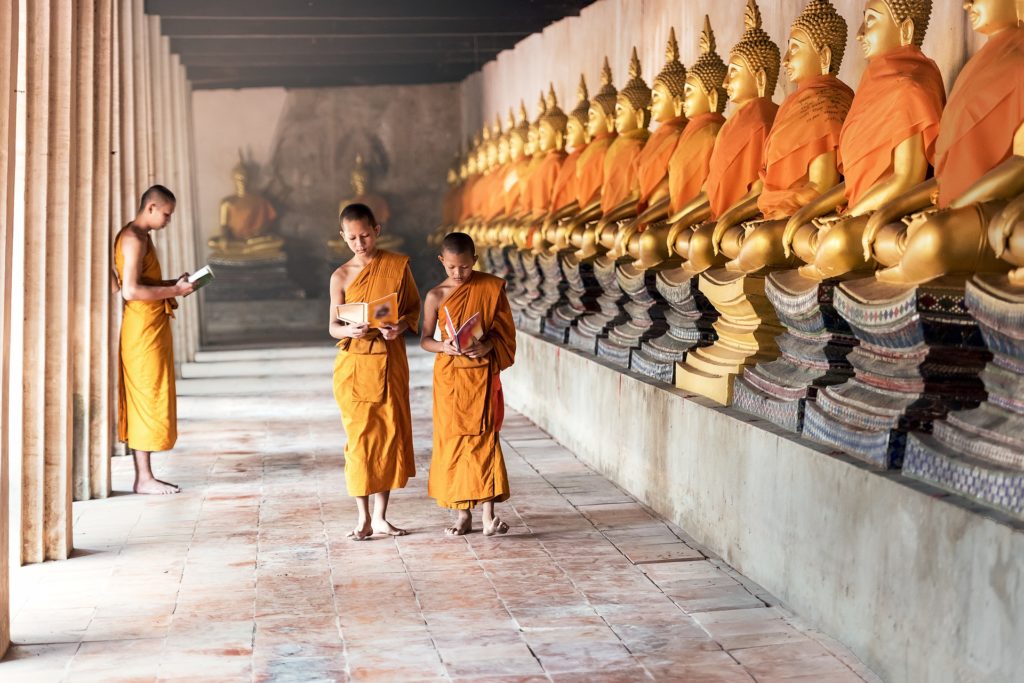 Source: Sasin Tipchai on Pixabay
With a turbulent history, Cambodia made the headlines up until 1999 for all the wrong reasons. The nation was either at war with itself or a foreign (sometimes both!) power since the 1940's. It was only after the assassination of Pol Pot – one of the world's most evil mass murderers and dictators – that the country knew peace after 60 years of virtually non-stop war. 
Sadly, today that mind-boggling amount of time at war still leaves a legacy, with land mines and unexploded ordnance still remaining a problem in rural parts of the country. Though through war crimes tribunals putting on trial the last surviving members of the nation's genocide in the late 1970's, and the passage of time at relative peace, Cambodia has reconciled with the dark history and moved on into the 21st century with optimism about the future and rediscovering it's former glorious past ancient history with the Angkor temple ruins. 
Phnom Penh
The kingdom's capital admittedly does look a little rough around the edges, but do not let that deceive you: Phnom Penh is still worth a couple of days, if not only to get a sense of how this nation's dark recent history continues to have an impact on it's people, and it will certainly give you a sense of how just how resilient and enduring the people are. 
S-21 is a sobering experience to say the least: It was formerly a school prior to the Communist takeover of the country by a faction known as the Khmer Rogue, who killed around a  third of their own people in only 4 years, in which they turned it into a prison and torture camp for political dissidents. Many of the torture implements can be seen in the rooms and cells and an audio guide describes things like the photos of captives taken by prison guards as you walk around the complex.
It is highly recommended that after this, you head 45 minutes drive out of the city to a place known as "the killing fields". This is where the prisoners were taken after being tortured and forced to sign confessions and were often executed in the most barbaric ways imaginable in order for the Khmer Rogue to save bullets. Methods of suffocating victims through tying plastic bags around their heads or clubbing them to death were not at all uncommon. 
Perhaps the most striking monument to this appalling tragedy is the Skull Stupa that has skulls of victims spiralling from the ground to the top spire of the stupa, erected as a memorial to the dead Some of these skulls are clearly the skulls of children, and some show head trauma indicating they were clubbed until skull fractures caused fatal brain damage, while others still show bullet holes. 
But Phnom Penh is not all doom and gloom. Today it is modernising at an incredibly rate and the Royal Palace located in the Riverside District devoted to virtually all the tourist infrastructure showcases Cambodia's brighter history as a regional superpower, with nightly traditional Cambodian dancing. Riverside is also home to a buzzing nightlife as well as hundreds of restaurants and eateries.    
Siem Reap
Siem Reap is located about 4 hours drive west of Phnom Penh and is considered by most to be the much more appealing of the 2 cities. Interestingly, the ethnic and linguistic make up of Siem Reap is mainly Laotian, rather than Cambodia, and the local friendly and welcoming culture is certainly testament to Laos'. 
But of course, Siem Reap is most famous for being the gateway to the Angkor Ruins. Not Just Angkor Wat – the most famous temple ruin – but the whole Angkor empire, which is scattered over some 100kms of pretty rural and jungle Cambodian countryside. Indeed, every year that passes, dozens more temple ruins are discovered, and it is strongly recommended you go for the 3 day passes, as 1-day passes don't even allow enough time to scrape the surface! 
Of course it's impossible to list even 1/10th of the temples and palaces that make up the ruins of this lost empire, but the travellers favourites always seem to be Angkor Thom, which was featured in the movie Tomb Raider some years ago,  as well as the Bayon, which is a temple that features the four faces of Vishnu carved into each side of the upper towers.
Angkor Wat is of course sensational too, but to avoid the crowds go at first light to make sure you are first there. If you are lucky, guards will allow you access before official opening hours, in which you will then be able to climb to the top centre tower and have a spectacular panoramic view of the surrounding jungle as the sun rises above it. Book a cheap flight to Siem Reap to explore this amazing area for yourself! 
Sihanoukville
Finally, The coastal town of Sihanoukville is worth a mention. About 3 hours south of Phnom Penh, it lacks the world class snorkelling and diving of Thailand and Indonesia, but offers up 5 different white sand beaches each with a different flavour, plus the opportunity to go to nearby Koh Rong island to get a glimpse of what Thailand's islands were like back in the early 1990's: Little visited, pristine and lacking any infrastructure and loud bars pumping out dance music until the early hours. 
So, although Cambodia still sometimes gets negative press based largely around a troubled past it is moving faster and further away from, ignore this. If anything, it is worth just visiting for the Angkor ruins which are unlike nothing else in the world.